Italian Sandwich on Ciabatta Bread
This Italian sandwich was typical growing up in an Italian household.
So many different ways to make it, but I'm giving you this Italian sandwich on ciabatta bread as my favorite.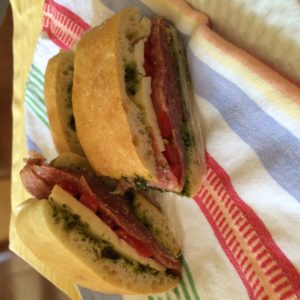 Ingredients;
One 10″ – 12″ fresh Ciabatta bread (found in the better markets)
2 TBLS Pesto (jarred or grind garlic, fresh basil, olive oil, 1 TBLS grated Parmesan and a few pine nuts to make your own)
One medium jar red/yellow roasted peppers, rinsed
8oz fresh Mozzarella, sliced
1/4-1/2 LB Sicilian salami, sliced very thin
Directions;
Cut the bread in half long ways. Brush both pieces with the pesto. Layer the balance of the ingredients to your desired thickness. Cover with the other half of bread and slice into 4 pieces.
Enjoy with a good glass of wine or an Italian soda.