Spaghetti with Black Truffles, Umbria Style
Recently I had the pleasure of visiting Orvieto in the Umbria region of Italy, just north of Rome. We had a pasta dish, Spaghetti with black truffles that was just exquisite.
Years ago I was introduced to one of the best all around Italian cooks and her cookbooks, Marcella Hazan. She tells the history of a recipe or a story. I checked and sure enough she has the truffle sauce recipe in her "More Classic Italian Cooking" book. It's called "Spaghetti alla Nursina". I've made a few alterations to it. She says "its an expensive dish that should be reserved for lovers since some pleasures are too keen to be shared!!"  I have to agree with her.
Make a romantic dinner for your someone special.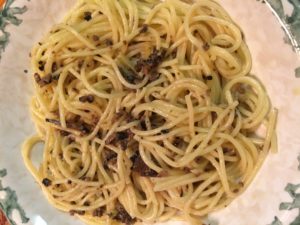 Ingredients;
2.5 to 3 oz black truffles, fresh is preferred but in brine is ok too(find it at an upscale grocer or on Amazon)
6 TBLS good quality fruity tasting extra virgin olive oil
1 large garlic clove peeled and crushed
2TSP anchovy paste
Salt to taste
8 oz spaghetti or like pasta cooked according to the package directions
a Sprinkle of good Parmesan cheese
Directions;
If the truffles are fresh, clean them using a brush, rinse quickly and pat dry. If they are in brine drain them and pat them dry.
Grate the truffles using the fine grate side of a grater or micro plane to get a fine morsel texture.
Cook the pasta while….
In a frying pan on LOW heat add the oil and truffles stirring them for a few minutes. Add the garlic clove and anchovy paste. Stirring for about 5 more minutes. Drain the pasta and toss with the truffle sauce. Taste for salt and sprinkle the cheese and serve immediately.
Compliment with your favorite white Italian wine.