Tagliatelle with Zucchini and Broccoli Di Rapi
This pasta dish is Tagliatelle with Zucchini and Broccoli Di Rapi.
That is the Italian broccoli known as di rape, rapi, or rapini.
This vegetarian dish is so delicious and nutritious.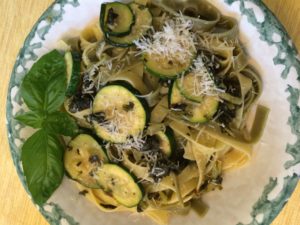 Quick to make and serves a crowd or take along as I did today to a party.
Ingredients;
6 TBLS extra virgin olive oil
1-2 cloves garlic, peeled and crushed
2 small zucchini, cut into 1/4 " slices
1 1/2 cups chopped broccoli di rapi, fresh or frozen
3/4 cup grated Parmesan cheese
1 LB tagliatelle (white or green or mixed) cooked according to the pkg directions
6-8 fresh basil leaves, sliced
salt & crushed red pepper flakes
Directions;
Broccoli; I like to use only the small stems, leaves and flowered part. Chop and steam the broccoli di rapi until tender. If frozen just steam 1 cup, set aside.
Begin cooking the pasta.
In a large skillet heat the oil and add the zucchini and broccoli di rapi and saute for about 5 minutes until soft but not mushy. Add the garlic and saute for about 1-2 minutes. Drain the pasta keeping one cup of the water and combine with the zucchini/broccoli mixture and half of the basil and toss. Add the reserved pasta water if it appears to be dry. Salt and pepper to taste. Sprinkle with remaining basil, Parmesan and serve.